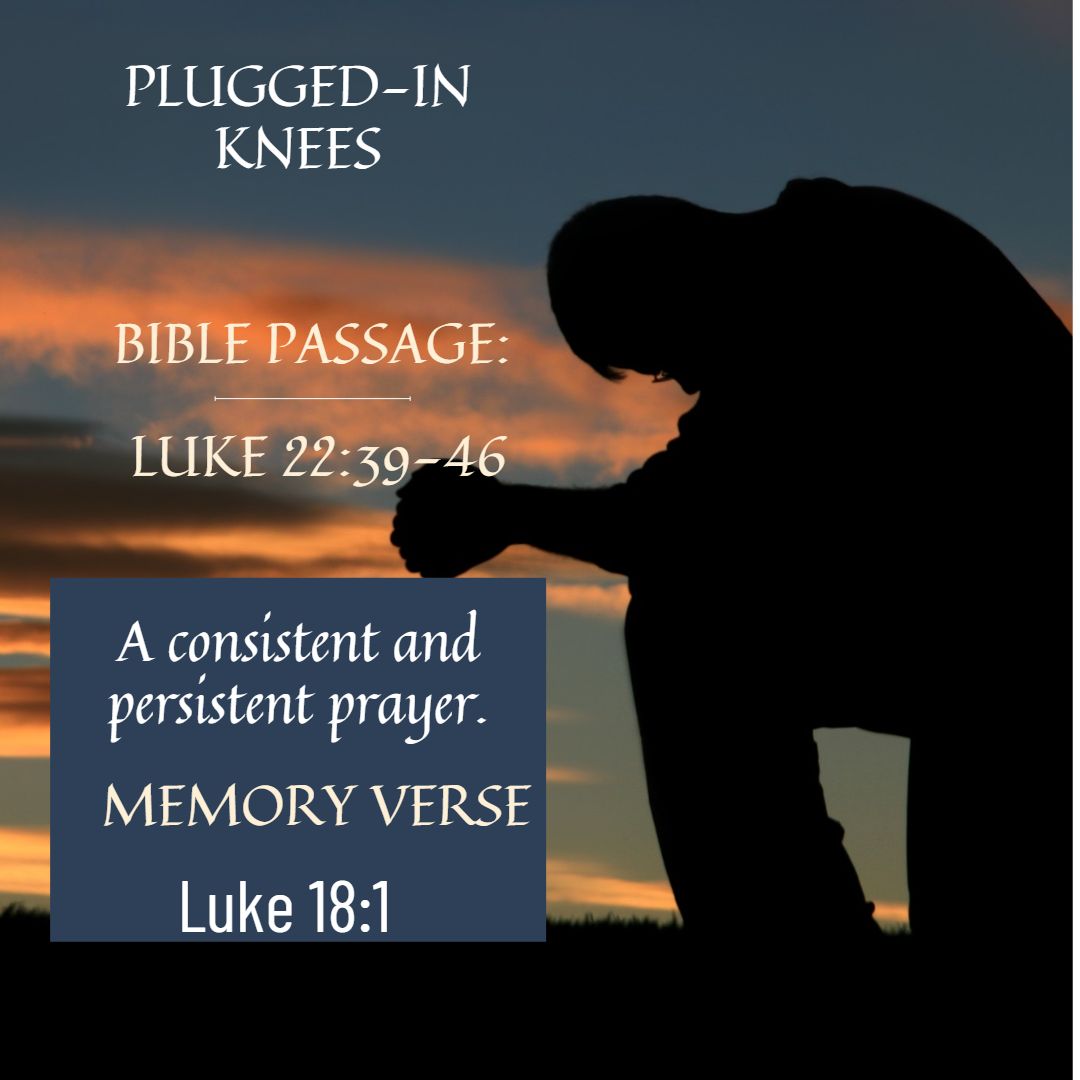 MEMORY VERSE: "And he spake a parable unto them to this end, that men ought always to pray, and not to faint." Luke 18:1
BIBLE PASSAGE: Luke 22:39-46
INTRODUCTION :'Plugged-in knees' simply refers to a life of constant prayers. A consistent and persistent prayer life was a regular practice and more of a lifestyle by our Lord and Saviour Jesus Christ. This exercise was pressed upon us more frequently by our Saviour; thus, He encouraged His disciples to be fervent, consistent, and persevere in the place of prayer Lk. 18:1. He even propounded the parable of an unjust judge, who was overcome by an unrelenting widow, to do her justice contrary to his own inclination Lk. 18:1-7.
OUTLINES
1) THE NEED FOR PERSISTENT PRAYERS
2) HOW TO PRAY REGULARLY
1)THE NEED FOR PERSISTENT PRAYERS
'Plugged-in' is to engage wholeheartedly in a task or to be connected. The need for ceaseless prayers is therefore emphasised in the Bible 1 Thess. 5:17 for various reasons.
Some of these are:
To keep the communication line between God and His children open Ps. 55:17. 2.
To be filled with the power of the Holy Ghost and be bold Acts 4:31.
To be guided when there is a need to take a decision Acts 1:24 or find direction Gen. 24:12. 4. For believers in Christ to enjoy the fullness of joy promised them by God all the time Jn. 16:23-24.
To remain standing, though the days are evil Eph. 5:16 and full of sin, error, subtle heretical seducers, and sharp persecutions 2 Tim. 3:13-14; Matt. 24:12-13.
To stay connected to the parent stock, as a branch, and be fruitful. Jn. 15:5-6.
To be able to withstand and confront the forces of wickedness that sought to destroy God's children Eph. 6:12-13.
To cast out unclean spirits Matt. 17:19-21.
For restoration Jdg. 16:28 and when agonized 1 Sam. 1:10.
To bring the flesh under Matt. 26:41; 2 Cor. 10:3-5 and always look up unto God Ps. 5:3.
2) HOW TO PRAY REGULARLY
We pray frequently when we take prayer as a daily task Ps. 141:2 .
Deliberately pray in the Spirit Eph. 6:18.
Live in the reality, that there is a need to pray without ceasing Mk. 14:38.
Put God first on any issue by contacting Him through prayers Ps. 37:5.
Be actively involved in praying always Col.1:9.
Give yourself to prayers Ps 109:4. Delight in God Job 22:26-27 when praying.
Pray with confidence that God hears, and answers will come 1 Jn. 5:14-15.
Pray everywhere 1 Tim. 2:8.
CONCLUSION
Constant prayer is a necessity for a close walk with God.