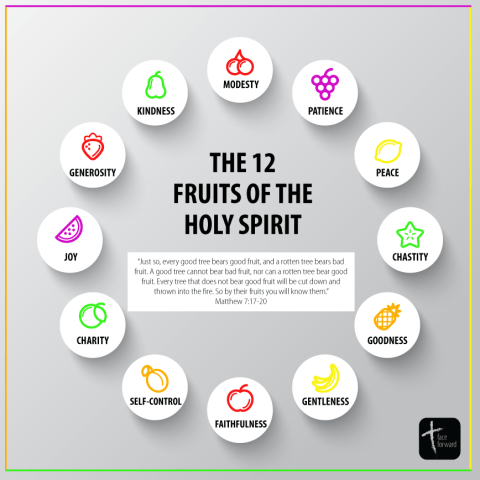 29 April 2023

Oluwapelumi

0
TOPIC: The Fruit Of The Holy Spirit I
MEMORY VERSE: "(For the fruit of the Spirit is in all goodness and righteousness and truth;)" – Ephesians 5:9 (KJV)
BIBLE PASSAGE: Galatians 5:22-23 (KJV) 
LESSON INTRODUCTION: One of the reasons Jesus gave us the Holy Spirit is to help us learn how to be more godly (John 16:12-15). The Holy Spirit will convict us of our sin (John 16:8) and guide us in choosing well when faced with temptations, thus producing godly characteristics within us (Ephesians 3:16; John 16:13). This is what the Bible describes as the 'fruit of the Spirit.
LESSON OUTLINES
WHY "FRUIT?"

THE OPPOSITE OF BEARING FRUIT
WHY "FRUIT?"
The Bible uses a lot of agricultural metaphors because they were easily understood by the highly agricultural culture of the time. The "fruit of the Spirit" refers to the "results" we should see in our lives after receiving the Holy Spirit and working on our hearts over time (Romans 8:9;12:1-2). The Apostle Paul gives us the component of the 'fruit' as "……love, joy, peace, long-suffering, kindness, goodness, faith, gentleness, self control…… Galatians 5:21-22.
The 'fruit' metaphor helps us see our faith as a tree with branches that may or may not produce fruit, depending on how well we take care of the tree itself. If we give the tree nourishment (God's word) -1Peter 1:23;2:2, then it will grow bigger. If we clear away weeds and insects (sinful tendencies) -Ephesians 4:22-31; Colossians 3:8-10, then keep the tree healthy. If we consult the 'professional' Gardener (God) -1Chronicles 16:11- then we will ensure we are on the right track.
THE OPPOSITE OF BEARING FRUIT
If you are a Christian, and you are not exhibiting the fruit of the Spirit in your life, at best, you will experience stagnation-no growth (James 2:14-26). At worst, the result of "bad fruit" is death (Romans 6:20-23; Proverbs 14:12). Notice that Galatians 5:22 start with the word "But." The Apostle Paul tells us that the opposite of these spiritual fruit. Let us take a look at the verses just before the fruit list: "Now the work of the flesh are manifest, which are these: adultery, fornication, uncleanness, lasciviousness, idolatry, witchcraft, hatred , variance, emulations, wrath, strife, seditions, heresies, envying, murders, drunkenness, revellings, and such like: if the which do such things shall not inherit the kingdom of God." -Galatians 5:19-21. This is a list of things that someone who does not have the Holy Spirit's influence would have problems with.
CONCLUSION
On one hand, our sinfulness produces rotted, poisoned fruit, which reflects our sinful nature and hurt us in the end. On the other hand, the Holy Spirit produces beautiful, nourishing fruit that reflects God's nature and will ultimately benefit our lives.