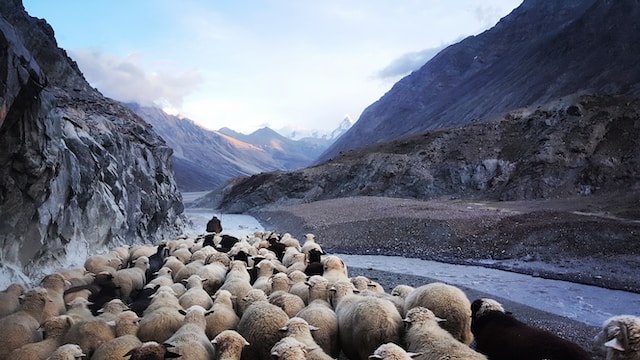 MEMORY VERSE: "Know ye that the LORD he is God: it is he that hath made us, and not we ourselves; we are his people, and the sheep of his pasture." Psalms 100:3
BIBLE PASSAGE: Psalms 23:1-6
INTRODUCTION
Psalms 23 is an expression of our confidence and trust in the Lord. Each verse reveals the close relationship David shared with His God. Metaphorically, David portrays God as a loving "Shepherd". This is because being a shepherd himself; he knows what it means to cater for the flocks. The imagery of God as "THE SHEPHERD" is common throughout the Old and New Testament. Therefore, every believer should understand the place of God in their lives as the "Shepherd", what it means to be a "sheep", and how to rely solely on God.
OUTLINE
THE BELIEVER AS A "SHEEP"
GOD AS "THE SHEPHERD"
THE BELIEVER AS A "SHEEP"
The term "sheep", in this context, is used metaphorically for believers Psalms 100:3. A "Sheep" is someone who obediently follows and totally trusts in the Lord Jesus Christ – "The Shepherd" John 10:14. Christians must subject themself to the leadership of the "Great Shepherd" who surely has their interest at heart Hebrews 13:20. Like the sheep, a believer needs God for daily provisions – both spiritual and physical Luke 11:3; Matthew 7:9-11; for protection from predators John 10:11- 12; for direction on the right Path Proverbs 16:9, etc.
Moreover, a believer needs the "Shepherd" to save them from "hirelings" -false Prophets, fake pastors, heretical teachers, apostate apostles, greedy evangelists, etc. Where the "sheep" only sees green grass, the
"Shepherd" sees hidden dangers. Hence, without the "Shepherd", the "sheep" is in trouble 1 Kings 22:17. Also, a "sheep" needs the "Shepherd whenever life is hard Psalms 27:13; in time of anxiety Matthew 6:26; in need of safety Psalms 125:2; when they are downcast Psalms 43:5 need of help Psalms 121:1-2, etc. Therefore, believers should always call on God as their "Shepherd" Romans 10:13.
GOD AS "THE SHEPHERD"
A shepherd is a person who tends herds- someone who feeds and guards flocks of sheep. A shepherd's primary responsibility is the safety and wellbeing of the flock. Like David, believers in Christ can call God their "Shepherd" Psalms 80:1; Isaiah 40:11. Jesus Christ also calls Himself the "Good Shepherd" John 10:11. In fact, Hebrews 13:2 calls Him "the Great Shepherd". 
Our "Shepherd" performs His all-important role in the following ways
He leads us out and in, so that we find "pasture" and safety John 10:9
He knows how to take care of our needs by His abundant grace and providence that leads us in the way in which we should go Psalms 84:11; Isaiah 30:21.
He watches over us and keeps us from being destroyed by all forms of dangers around us John 10:10-11.
When we stray, He brings us back to the right path Matthew 12:11
Just as the shepherd brings the flock to the shade in times of scorching heat, in times of persecution and affliction, God becomes our refuge Psalms 91:4.
CONCLUSION
To enjoy the blessings of the Great "Shepherd", we must humbly follow as responsive sheep.